Thailand's traditional culture is delicately tuned to the time-honoured Buddhist's non-confrontational approach to life, and ideals of charity, tolerance, and loving-kindness. Take time to bargain at the local markets or cruise on a longtail boat down the Chao Phraya River. Venture off the beaten path into a world of culture-rich villages and experience Thailand through the eyes of a local. Rewind as you enjoy an island beach stay and snorkel in the clear waters.

Top Highlights

Yummy Thai Food
The best way to explore Thailand is through your taste buds. Known throughout the world for its vibrant street food culture, indulge in local favourites like spicy noodles or papaya salad.

Unique Experiences
See riverside temples and a Buddha head entwined in tree roots. Hop onboard a tuk-tuk for an exhilarating ride, or explore a unique white temple.

Local Encounters
Bargain at the local markets or cruise on a long-tail boat down the Chao Phraya River. Venture off the beaten path into a world of culture-rich villages and experience Thailand through the eyes of a local.
All Journeys

10-Days

11-Days

12-Days

13-Days

14-Days

15-Days

16-Days

17-Days

18-Days

2-Days

3-Days

4-Days

5-Days

5-Nights

6-Days

7-Days

7-Nights

8-Days

9-Days

Adventure

Algeria

Animals

Argentina

Armenia

Auckland

Azerbaijan

Bahrain

Bali

Bangkok

Bangladesh

Beach Escapes

Beach Extension

Beijing

Bespoke

Bhutan

Bolivia

Buenos Aires

Cairo

Cambodia

Cameroon

Canada

Cape Verde

Chiang Mai

Chile

China

City Explorer

Colibri Group Journey

Colibri Travel

Colombia

Croatia

Cuba

Culinary

Destination Trip

Dhaka

Dolphins

Egypt

Family

Georgia

Germany

Highlight Tour

Hiroshima

Hoi An

Hong Kong

Hotel Specials

Hurghada

India

Indonesia

Island Hopping

Israel

Italy

Japan

Jordan

Journeys

Kenya

Kep

Kyoto

Langkawi

Laos

Madagascar

Malaysia

Marrakech

Morocco

Movie Tour

Multi Country

Myanmar

Namibia

Nature

Nepal

New Zealand

Panama

Peru

Philippines

Phnom Penh

Phu Quoc

Portugal

Private Journey

River Cruise

Rwanda

Safari Tour

Santiago de Chile

Saudi Arabia

Self-Drive Tour

Siem Reap

Singapore

Slovenia

Small Group Journeys

South Korea

Spain

Sri Lanka

Stopover

Tangier

tanzania

Thailand

Tokyo

Uganda

United Arab Emirates

United States

Vietnam

Weekend Getaway

Wellness

Whales

Wilderness

Zagreb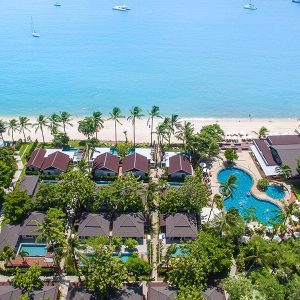 Witness the breath-taking view of the sunrise over the magnificent Angkor Wat temple at dawn. Dine with a local and enjoy a delicious home-cooked meal full of tasty herbs and spices while chatting about local life in Cambodia. Explore Cambodia's…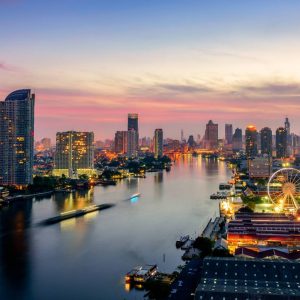 Visit Mahanakhon Skywalk, the highest building in Bangkok that offers a 360 degree panoramic view over the capital of Thailand. Take the Thai Bus Food Tour- Bangkok's latest addition to the vibrant food scene. Get served a Michelin awarded set…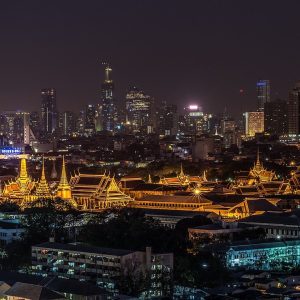 Discover Bangkok's famous landmarks through various methods of transport. Experience the oldest & largest floating market and weave through the canals on a longtail boat. Visit Asia's first water jungle park for a fun filled day.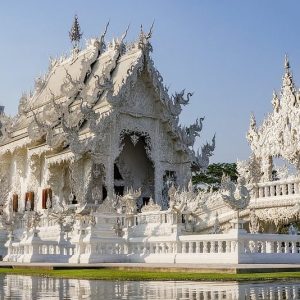 Experience the old Kingdom of Lanna, which is rich of culture and tradition. Learn about the art of meditation and discover your inner peace. Sit back and relax as you enjoy a private spa treatment at Panpuri Wellness.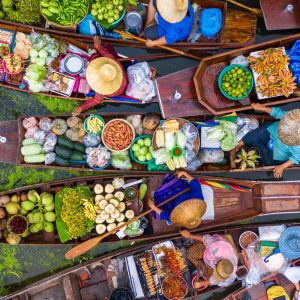 Venture to the Mekong Delta and spend the day exploring the many palm fringed canals, local temples and markets. Start your day like a local as you explore the bustling streets of Phnom Penh whilst on a cyclo. Journey along…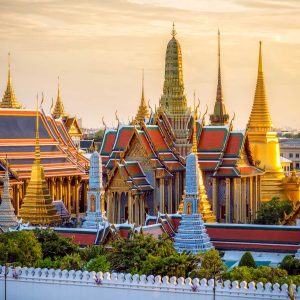 Weave through the Bangkok on a traditional boat. Learn how to cook like a local at an exclusive cooking school. Immerse yourself in local living as you enjoy a night on a floating house.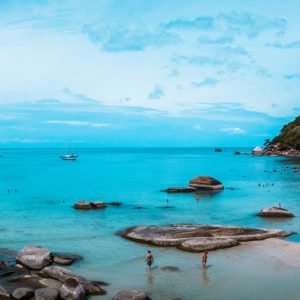 Visit the famous Ang Thong National Marine Park. Rewind as you enjoy a beach stay at Koh Tao Island. Explore the colourful underwater world of Koh Ma as you snorkel in the clear waters.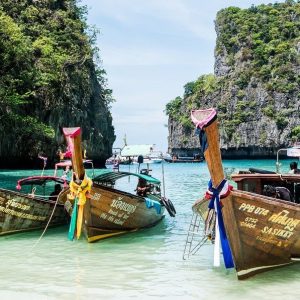 Venture to the iconic James Bond Island known as Phang Nga Bay. Sample the fresh flavours of Phuket as you wander through a local street market. Escape the bustling city to the picturesque Koh Yao Yai, where you can hear…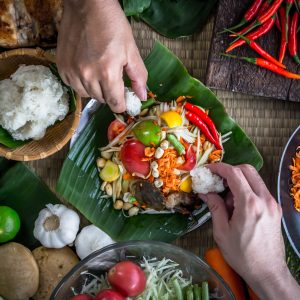 Eat your way through Thailand's most iconic dishes. Visit Ayutthaya and its historic ruins. Take a boat ride on the canals of Bangkok while eating traditional snacks. Discover mystic Chiang Mai and its food scene.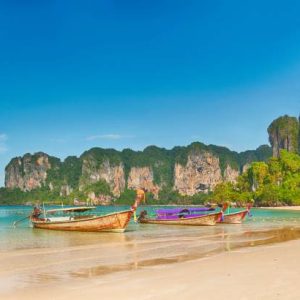 Journey to Phi Phi Island, full of history as well as impressive blue waters. Immerse yourself in nature as you begin a jungle walk leading you to a traditional bamboo raft ride. Explore the underwater world of Koh Kradan without…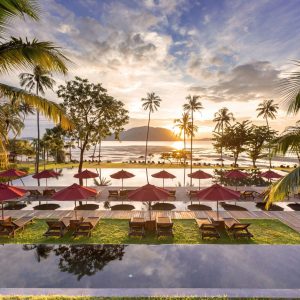 Witness the breath-taking view of the sunrise over the magnificent Angkor Wat temple at dawn. Dine with a local and enjoy a delicious home-cooked meal full of tasty herbs and spices while chatting about local life in Cambodia. Explore Cambodia's…

Bangkok
The capital of the country, and by far Thailand's largest city. It is one of Asia's most cosmopolitan cities with magnificent, world-famous temples and palaces, authentic canals, busy markets, giant shopping malls and a vibrant nightlife that has something for everyone. The winding Chao Phraya is connected by numerous canals from which Bangkok has earned its nickname the "Venice of the East"; when you travel around Bangkok, a cruise on the Chao Phraya, a visit to a floating market, or an exploration of the cities "back alley" canals (khlongs) are themselves unique Bangkok attractions. Beyond Bangkok's historical district, there are plenty of other attractions that make a Bangkok holiday both enjoyable and memorable.

Sukhothai
The superb temples and monuments of this great city have been lovingly restored, and Sukhothai Historical Park, a UNESCO World Heritage Site, is a must-see for all travelers, particularly in the evening when the graceful Buddha images are illuminated by lights while exploring the grassy, tree lined park via bicycle, or most spectacularly, during the Loy Krathong festival, when hundreds of candle-powered, floating lanterns are released into the sky. King Ramkhamhaeng, who reigned over Sukhothai's golden age promoted religion and culture, and brought Chinese artisans back to the city to teach his people the art of pottery. Visitors can go to villages still engaged in the production of Sangkhalok Pottery as well as Hat Siao cloth, named for the village in Si Satchanalai district, just north of Sukhothai town.

Koh Phi Phi
This is Thailand's Shangri La: a hedonistic paradise where tourists cavort in azure seas and snap pictures of long-tails puttering between craggy cliffs. One of the most beautiful of the Thai islands, there are still plenty of places for a party! Known as the 'jewels of the Andaman Sea', there are six islands in Mu Koh Phi Phi-Nopparathara National Park but only Phi Phi Don is inhabited – all others are undeveloped and protected by their National Park status and are frequently visited as day trips. Phi Phi Ley was featured in the Hollywood blockbuster movie The Beach, a story about the ultimate secluded island beach.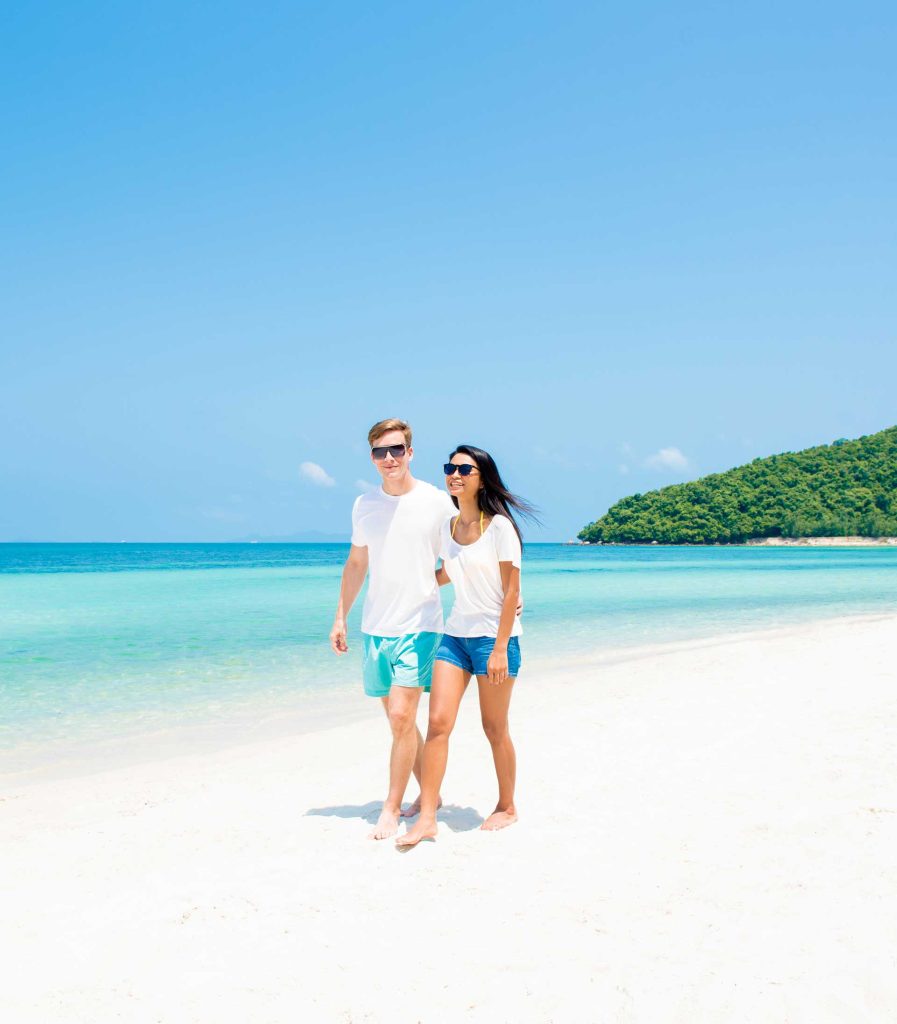 Koh Chang
Also known as Elephant Island, Koh Chang is popular with those wanting to dive at the Mu Ko Chang National Marine Park and explore the underwater coral gardens. With no less than 50 offshore isles, Koh Chang boasts the finest red gems, sweet Rakam fruits, indigenous dogs, the historic Koh Chang Naval engagement, and is the eastern-most province in Thailand. The island is 70% covered by unspoiled rainforest and its permanent residents are only gradually becoming more involved in tourism as development has increased in the past decade. As for activities, Ko Chang and the nearby islands that make up the national park are great for snorkeling, diving, camping, and jungle hiking.

Chiang Mai
Surrounded by mountains and lush countryside, Chiang Mai is much greener and quieter than the capital, with a cosmopolitan feel. It is a charming city with a laidback atmosphere, submerged in history and culture. Thailand's "Rose of the North" is a cultural and natural wonderland with ethnic diversity, a multitude of attractions and welcoming hospitality. Intriguing diversity among ethnic tribes, a number of elephant camps, many cooking and massage schools, numerous outdoor activities, a variety of handicrafts workshops, various cultural performances, and breathtaking scenery make Chiang Mai one of Asia's most attractive tourist destinations.

Ayutthaya
Once considered the most spectacular city on Earth, the ruins of the capital of the Kingdom Ayutthaya are now a major tourist attraction easily accessible from Bangkok by car, train, or boat as either a daytrip or overnight excursion. Visitors to Ayutthaya can marvel at its grandeur reflected through numerous magnificent temples and ruins concentrated in and around the city, which is located upon an "island" surrounded by the Chao Phraya, Pa Sak and Lopburi Rivers. Although there are numerous attractions, the Phra Nakhon Si Ayutthaya Historical Park in the heart of Ayutthaya city, is a UNESCO's World Heritage site and a wonder to behold. The architecture of Ayutthaya is a fascinating mix of Khmer and early Sukhothai styles. Some cactus-shaped obelisks, called prangs, denote Khmer influence and look something like the famous towers of Angkor Wat.


Koh Samui
An island of natural beauty and charm where life can be as active and fast paced or laidback and relaxed as you want. Beautiful white sand beaches, clean, clear warm water, lush tropical gardens and gentle ocean breezes await. Samui is easily accessible, features beautiful beaches and a variety of activities, and caters to visitors on any budget. Home to a small community engaged primarily in fishing and harvesting coconuts until the late 20th century, Samui today hosts bustling beach towns with fabulous beach resorts, internationally acclaimed restaurants, and world-class nightclubs.

Chiang Rai
A small but picturesque city with a relaxed atmosphere and some great places to try the local cuisine. Chiang Rai is an ideal base from which to explore more remote areas of the province. The quieter neighbor of Chiang Mai, Chiang Rai is a land of outstanding natural beauty, where visitors looking to avoid the hordes, can visit remote hill tribes, spot exotic wildlife, and check out the golden triangle, the former center of the world's opium trade. For those interested in the natural side of Chiang Rai, jungle trekking is a magical experience; explore the mountains of the north along various hiking trails, many of which access the villages of diverse hill tribes groups, many of whom maintain their traditional lifestyles.

Hua Hin & Cha Am
A quiet and relaxing seaside resort ideal for wonderful vacation, a reasonable 2.5 hours drive down from Bangkok. Besides just sunbathing, snorkeling and swimming, visitors can also enjoy golf, spas, caves, peaks, waterfalls, shops, seafood and nearby national parks. Hua Hin, one of Thailand's premier beach resort towns on the Gulf of Thailand features a beautiful, powdery sand beach, numerous seaside seafood restaurants, a lively night market, numerous beach activities, and some great inland activities, not least of which is golfing at some of Thailand's most renowned courses.

Phuket
Spectacular scenery, stunning tropical sunsets and warm blue sea await you in one of Asia's most popular beach destinations. This fun island provides an unbeatable combination of perfect silky soft white palm-lined beaches, superb hospitality, a number of activities and great value accommodation, not to mention an active nightlife! The island's long history has shaped the Phuket of the present with its diverse ethnic groups, culture, architectural influence, and fine cuisine. These attributes have made Phuket a complete tourist destination that offers a lot more beyond its natural heritage of sea, sand, forest, and world-renowned diving sites. Sino-Portuguese architecture casts its spell delighting travelers to the city, while Phuket style of hospitality has never failed to impress visitors from all walks of life.

Krabi
A top tourist destination as a result of its plentiful natural attractions including white sandy beaches, crystal clear water, extensive coral reefs, numerous caves and waterfalls, and over 130 islands, including Koh Lanta and the jewels of the Andaman coast, the six islands of Mu Koh Phi Phi National Park. Krabi, a province on southern Thailand's Andaman coast, is an almost otherworldly region of labyrinthine archipelagos, where islands seem to erupt vertically out of the sea and secluded beaches are only accessible by colorfully adorned long tail boats. With attractions including hot springs, natural parks, a wildlife sanctuary, sea caves, flourishing coral reefs, exotic marine life and limestone cliffs that draw rock climbing enthusiasts from around the world, one could easily spend weeks in Krabi and leave yearning for more.