If you're looking for an authentic destination to visit, then experience Laos in all its majestic beauty. Natural in almost every aspect, Laos is one of Southeast Asia's least developed nations offering the adventurous tourist a land of many surprises. Explore the World Heritage listed town of Luang Prabang with its glittering temples, night markets and spectacular mountainous scenery. Visit Wat Phou Temple, spot Irrawaddy dolphins and see stunning waterfalls in scenic Southern Laos.

Top Highlights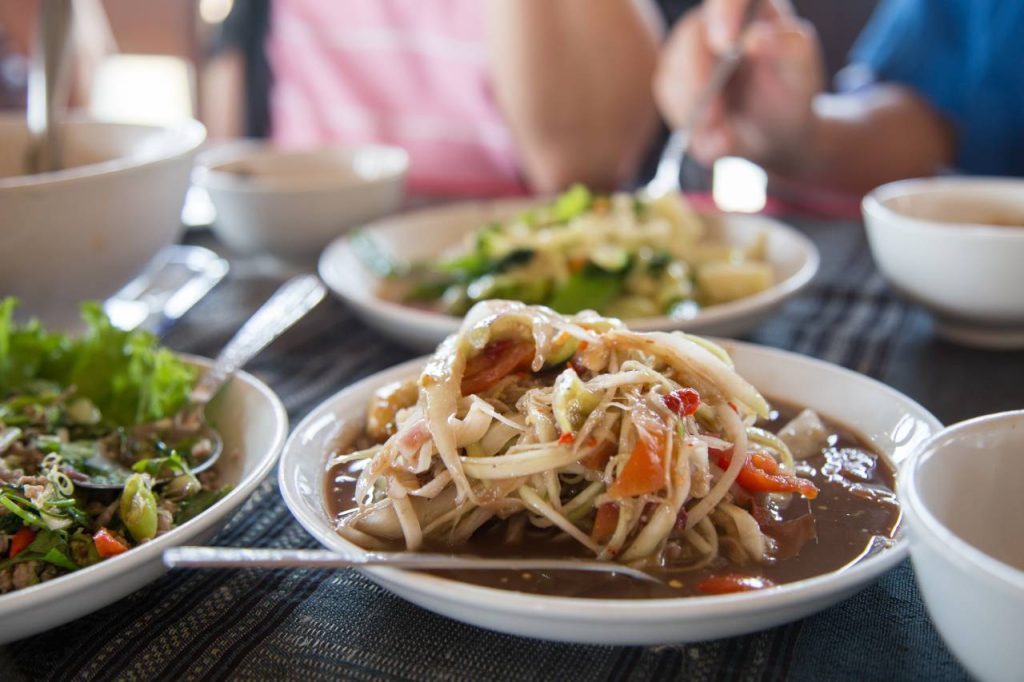 Unique Flavours
From a bamboo-themed cooking class and freshly made noodles to sampling traditional Lao coffee and visiting a coffee plantation, Laos offers a diverse range of culinary experiences.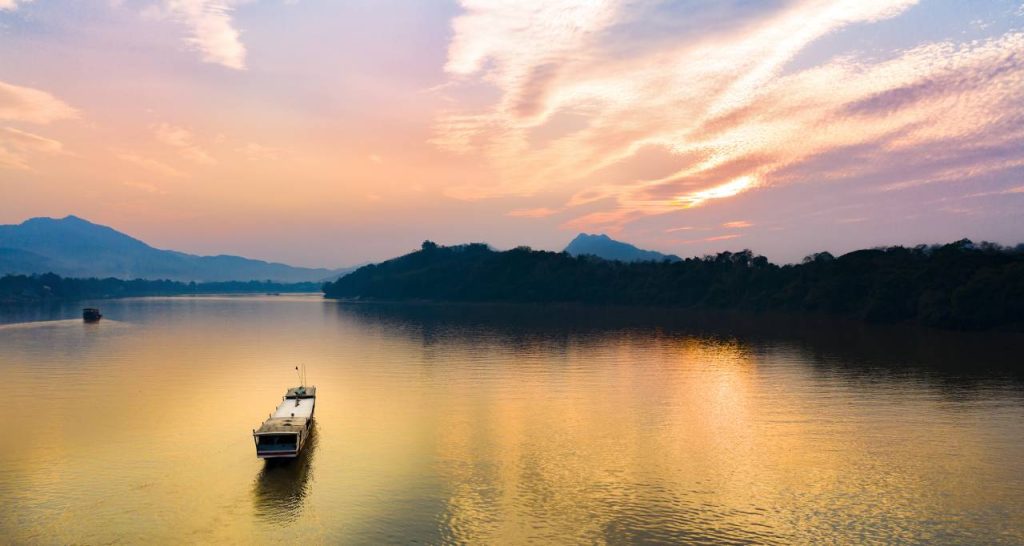 Unique Experiences
Venture to the 4,000 Islands region to go in search of the illusive Irrawaddy freshwater dolphin, cycle to quaint local villages and stay in a riverside lodge overlooking the Mekong.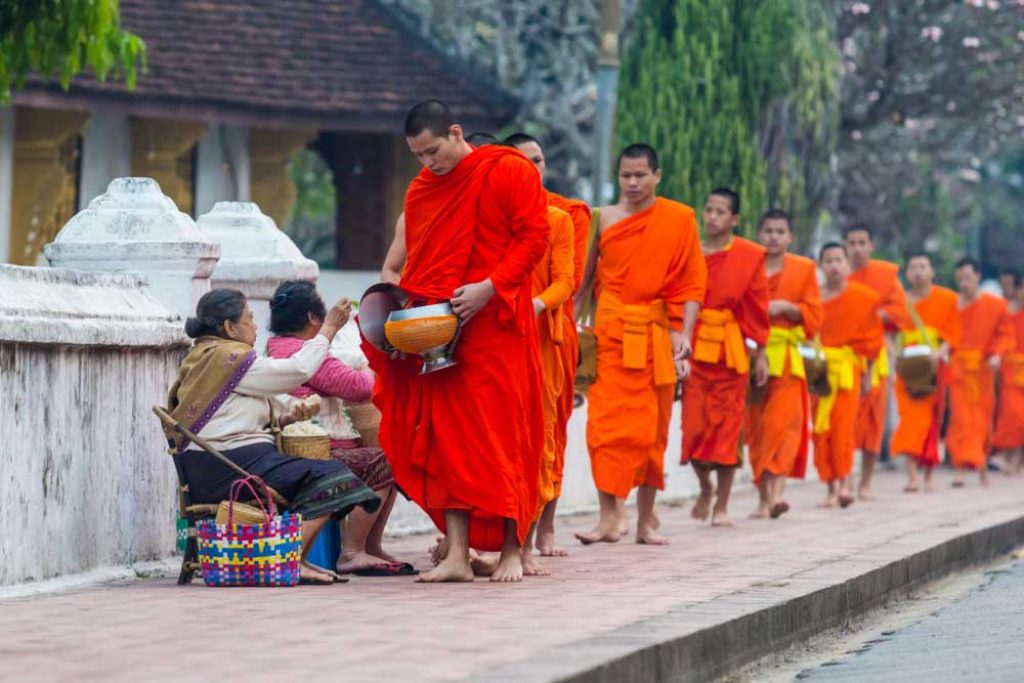 Local Encounters
Join the locals for a game of petanque, the Lao national pastime or receive a traditional Lao blessing at a 'baci' ceremony in a local home to gain an insight into the local way of life.
All Journeys

10-Days

11-Days

12-Days

13-Days

14-Days

15-Days

16-Days

17-Days

18-Days

2-Days

3-Days

4-Days

5-Days

5-Nights

6-Days

7-Days

7-Nights

8-Days

9-Days

Adventure

Algeria

Animals

Argentina

Armenia

Auckland

Azerbaijan

Bahrain

Bali

Bangkok

Bangladesh

Beach Escapes

Beach Extension

Beijing

Bespoke

Bhutan

Bolivia

Buenos Aires

Cairo

Cambodia

Cameroon

Canada

Cape Verde

Chiang Mai

Chile

China

City Explorer

Colibri Group Journey

Colibri Travel

Colombia

Croatia

Cuba

Culinary

Destination Trip

Dhaka

Dolphins

Egypt

Family

Georgia

Germany

Highlight Tour

Hiroshima

Hoi An

Hong Kong

Hotel Specials

Hurghada

India

Indonesia

Island Hopping

Israel

Italy

Japan

Jordan

Journeys

Kenya

Kep

Kyoto

Langkawi

Laos

Madagascar

Malaysia

Marrakech

Morocco

Movie Tour

Multi Country

Myanmar

Namibia

Nature

Nepal

New Zealand

Panama

Peru

Philippines

Phnom Penh

Phu Quoc

Portugal

Private Journey

River Cruise

Rwanda

Safari Tour

Santiago de Chile

Saudi Arabia

Self-Drive Tour

Siem Reap

Singapore

Slovenia

Small Group Journeys

South Korea

Spain

Sri Lanka

Stopover

Tangier

tanzania

Thailand

Tokyo

Uganda

United Arab Emirates

United States

Vietnam

Weekend Getaway

Wellness

Whales

Wilderness

Zagreb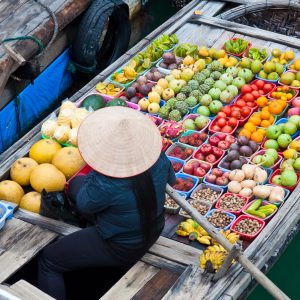 Escape the crowds and travel by tuk-tuk to Angkor Wat for sunrise over Angkor Wat's famous spires. Enjoy a hands-on traditional Lao-style cooking demonstration at the Bamboo Experience cooking school. Learn about the typical ingredients used in Lao cooking and…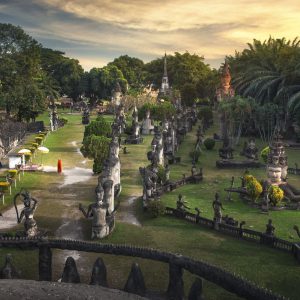 Begin your day like a local by indulging in the flavours of traditional Lao coffee at a charming coffee stall in Vientiane. Embark on a breath-taking Mekong cruise and witness the captivating scenery as the sun gracefully sets. Immerse yourself…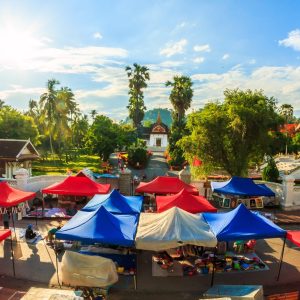 Explore the World Heritage listed town of Luang Prabang with its glittering temples, night markets and spectacular mountainous scenery. Visit Wat Phou Temple, spot Irrawaddy dolphins and see stunning waterfalls in scenic Southern Laos. Enjoy additional bonuses including a tailored…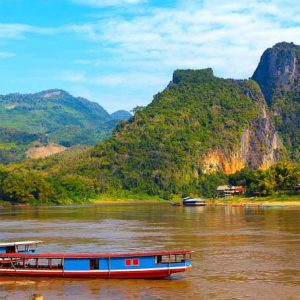 Explore Southern Laos, a region where time seems to stand still. Journey through sleepy rural scenes, fertile plains, coffee plantations and scenic waterfalls. Discover the 4,000 Islands, spot the elusive Irrawaddy dolphin or soak in a stunning Mekong sunset.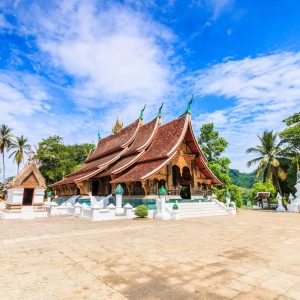 Discover the rich world of coffee with Mr. Kamsouk as you explore the picturesque Bolaven Plateau aboard a vintage army Jeep. Immerse yourself in the tranquil ambiance of Don Daeng Island, nestled within the idyllic 4,000 Islands region. Cycle through…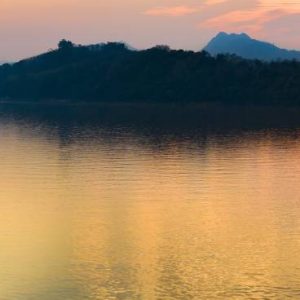 Enjoy four nights in World Heritage listed Luang Prabang, repeatedly mentioned as a highlight by our travellers. Prepare your own traditional Lao picnic of barbecue chicken and bamboo sticky rice to take to the magnificent Kuang Si Falls. Enjoy bonus…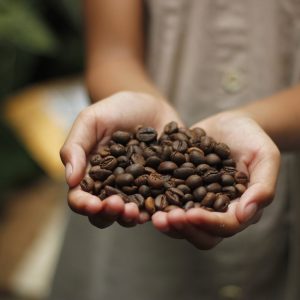 Swim in the waterfalls and visit a coffee farm in the highlands of the Bolaven Plateau. Take a jeep trip to an ethnic village with traditional bamboo houses. See the ancient temple ruins of Vat Phou. Explore the local coffee…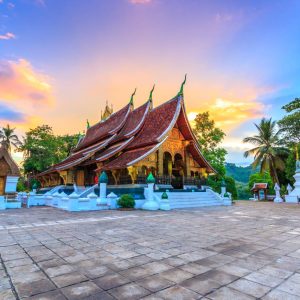 Learn more about Laos' contemporary art scene from young artists in Vientiane. Enjoy a private dinner in a rice paddy. Discover the hidden treasures of Luang Prabang during an exclusive tour.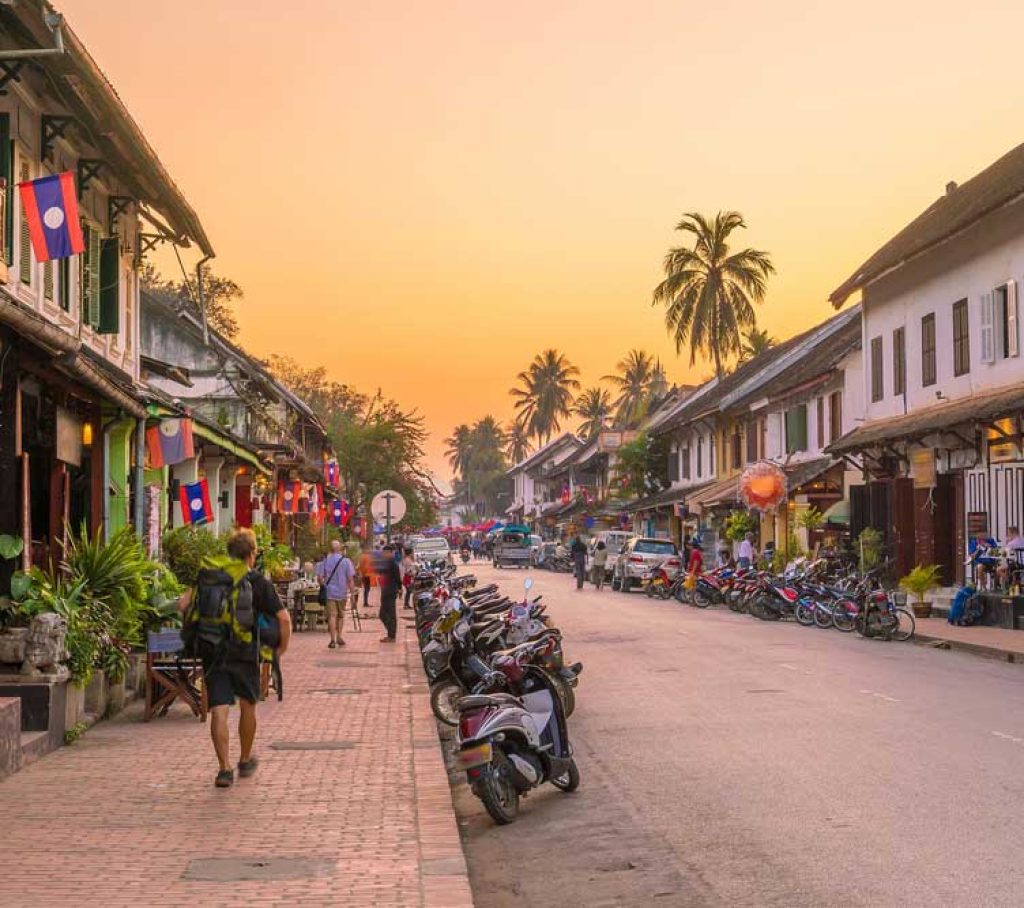 Luang Prabang
The former capital of Laos, this UNESCO World Heritage City has to be one of the most charming places in all of Southeast Asia. A myriad of traditional Lao wooden houses and European architecture, with gold-roofed temples and ornate Buddhist decorations, set against a backdrop of verdant greenery and rugged mountains. It houses old monasteries, typically Indo-Chinese store houses and lots of artwork shops. The town is surrounded by various types of natural beauty, offering travelers a wealth of sites to visit.

Pakse
The capital of the Champasak province of Southern Laos, Pakse is an ideal base with its relaxing atmosphere on the Mekong and Sedone Rivers, friendly locals, ubiquitous riverside restaurants and bars, and numerous massage clinics. Pakse is synonymous with Wat Phou like Siem Reap is to Angkor Wat. Wat Phou was built by the founder of the first Khmer empire, Jayavarman II. It is much smaller than Angkor, but still a rival to that ancient empire. It is the capital of Champasak Province and an unspoiled place for travelers. Southeast Asia's highest waterfall, Khong Phapend, and many interesting islands on the Mekong River can be found near Pakse.

Phongsali
The hiking mecca in Southeast Asia lies on the borders to China and Vietnam. A magical world in the evergreen Laotian mountains in the far north of the country. No region in Southeast Asia is more sparsely populated and yet 28 different mountain tribes live here, almost cut off from any civilization. A unique boat trip from Luang Prabang is the adventurous start of an excursion to the city of Phongsali, the center of the hiking region.

Vang Vieng
Still not much more than three streets and a bus station, the main attractions are the river, laid back countryside and cave-filled rock formations. Vang Vieng is embedded in rainforests and rice fields and thanks to its fascinating backdrop with picturesque karst mountains a tourist magnet. There are also some beautiful, blue lagoons that make for stunning photos. Vang Vieng is truly an outdoor paradise with plenty of outdoor activities available in the most beautiful of surroundings, such as kayaking, caving, rock climbing, and so many more.


Wat Phou Temple Complex
As a UNESCO World Heritage Site, the ruins of the Wat Phou temple complex are one of the must-sees in the south of the country. The relics of the sanctuary can be found in the ancient royal city of Champasak on the Mekong and at the beginning of the historical road to the Angkor Wat temple complex. Wat Phou is considered to be an important testimony to the Khmer Empire. Today, the huge seated Buddha in the sanctuary and the temple complex, which extends over three levels, are highly frequented by Buddhist pilgrims.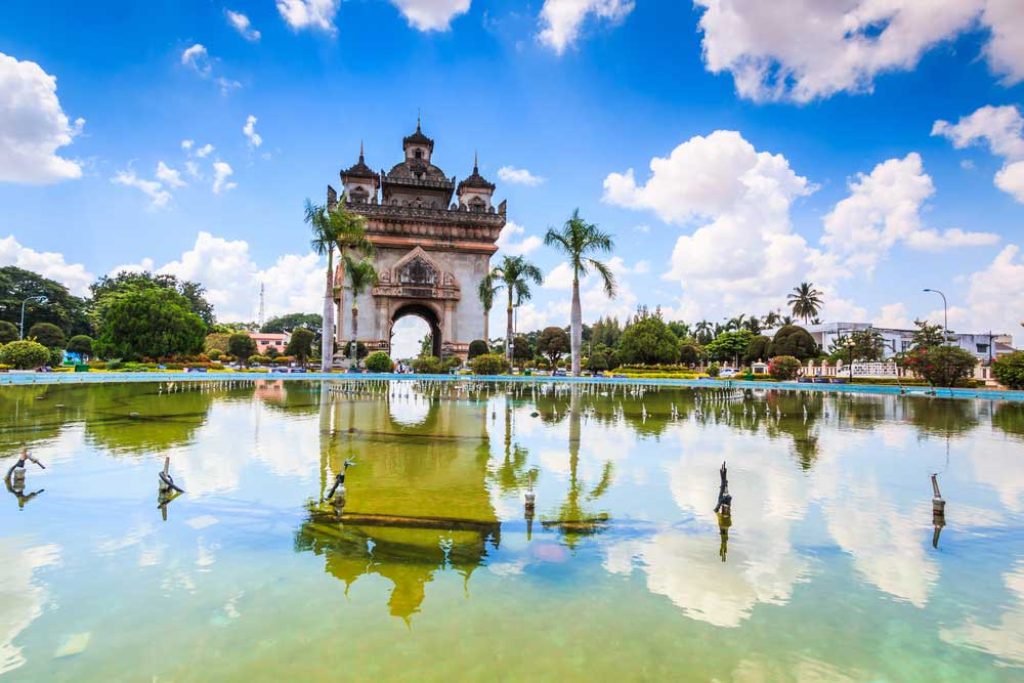 Vientiane
Situated along the Mekong River near the border with Thailand, Vientiane is the largest city in Laos, and the capital. This unusual city is surrounded by lush, green paddy fields and is still peaceful and quiet. It contains many temples and Buddhist monuments, including Pha That Luang, one of the most famous Buddhist stupas in Laos. Vientiane is a typically old Indo-Chinese town with a mixture of Asian and French colonial architecture destined to charm you. Not only does the style of the buildings reflect Laos' historical ties with France, but the freshly baked baguettes are often served next to shops selling Lao noodle soup.

Pak Ou Caves
The Pak Ou Caves are an important Buddhist pilgrimage site and rank among the most notable highlights of northern Laos. There are hundreds of Buddha statues in the two caves on the west bank of the Mekong near the confluence of the Nam Ou River. The Pak Ou caves are particularly easy to reach with a two-hour boat trip along the Mekong from Luang Prabang. A tuk tuk ride is a little faster, but more adventurous.

Kuang Si Waterfall
When visiting the Kuang Si waterfalls, swimwear is a must, as the water in numerous natural pools invites you to refresh yourself. The natural spectacle is located about 30 km southwest of Luang Prabang in the Tat Kuang Si Park nature reserve. The main waterfall of the Kuang Si plunges 60 m into the depth, numerous pools have formed above and below the falls. In the immediate vicinity of the Kuang Si waterfall, the Bear Rescue Center, a rescue center for Laotian collar bears, is another highlight.