Departure Day
Every Monday
Meals
Daily Breakfast
Other Meals as indicated
Hotel Category
3 - 4 Star Hotels
Request More Details
Start the day like a local as you savour a traditional Lao coffee at a local coffee stall in Vientiane. Enjoy a breathtaking Mekong cruise and take in the views of its surrounds whilst the sun sets. Visit a traditional wooden house and enjoy a home cooked meal whilst learning about the Laos culture. Discover the hidden corners of the capital Vientiane, through the local sights and delicacies.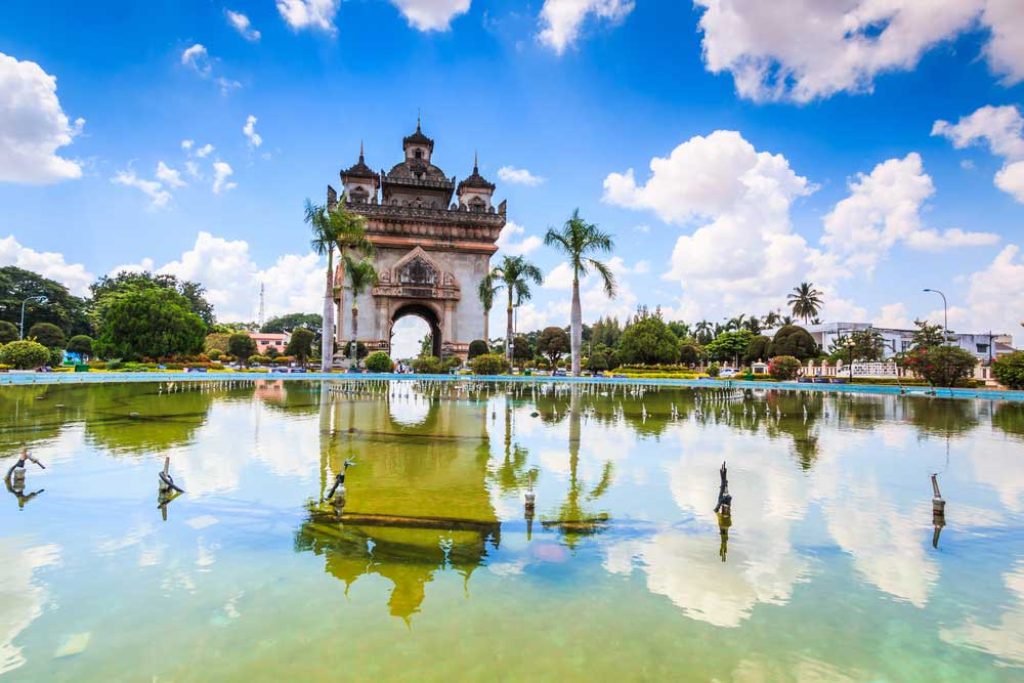 Day 1: Vientiane Welcome arrival. Meet your tour guide and drive to the hotel for check-in. Enjoy a welcome drink and chose to relax or explore nearby sights on your leisure time. Overnight in Vientiane.
Day 2: Vientiane – Vang Vieng Explore the charming capital starting with a TukTuk ride from your hotel to the iconic Phatuxay Monument. Walk down Lane Xang Avenue, stopping at the Morning Market and the Cooperative Orthotic & Prosthetic Enterprise (COPE). Visit Wat Si Muang and Wat Sisaket, before stopping at the Presidential Palace. Get re-energised with a Lao coffee and croissant at Anouvong Park. Visit a series of temple before reaching the Mekong riverbanks. Hop-on a TukTuk ride back to your hotel and prepare for our journey to Vang Vieng. Overnight in Vang Vieng. (B)
Day 3: Vang Vieng – Luang Prabang Take a scenic walk across the Nam Song River to visit the Hmong village of Ban Phan Thao. Trek along a small canal and enjoy breathtaking views of limestone karst mountains and luscious rice fields. If you wish you can visit some caves (optional). Reach the rice paddies of Ban Nadoa Village and Tam Chang Cave. Take a road trip through majestic mountains and visit other Hmong villages on the way to Luang Prabang. Overnight in Luang Prabang. (B,)
Day 4: Luang Prabang Explorer and Sunset Mekong cruise Discover the charms of Luang Prabang with a leisurely walk around the old quarter. Start with the vibrant morning market, the charming city main street and the National Museum. After, visit Wat Xienthong, considered the finest temple in Laos. For the finalé, embark on a scenic boat ride for a memorable sunset cruise along the Mekong river. Overnight in Luang Prabang.(B,)
Day 5: Luang Prabang – Kuang Si A short drive to the outskirts of Luang Prabang takes us to the multi-tiered turquoise-colored Kuang Si Waterfall, deemed one of the most beautiful waterfalls in Southeast Asia. Here you can also visit the Bear Rescue Centre to see rescued Asiatic bears. On our way back, get to see the fascinating world of Lao textiles come alive with a visit to Ock Pop Tok Weaving Centre. Tips: • Stop at Buffalo Dairy for ice cream made from real buffalo milk! In the evening, see a bamboo presentation with dinner and a 'baci' cermony at Bamboo Experience. Overnight in Luang Prabang.(B,D)
Day 6: Luang Prabang Luang Prabang Enjoy some free time before your onward journey.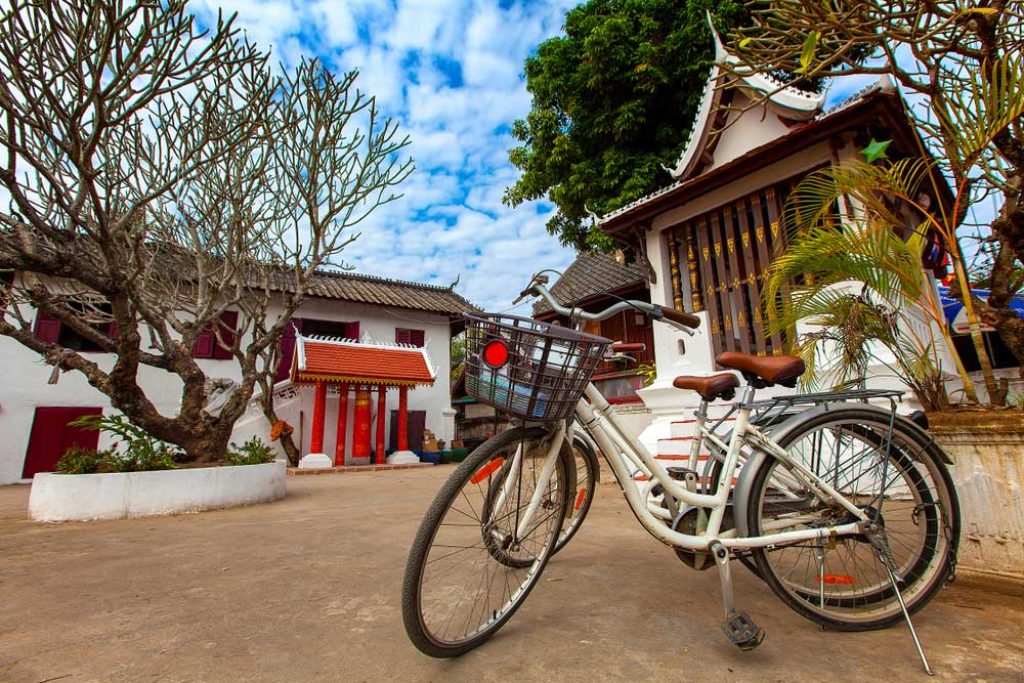 9 nights in described Hotel or similar

Daily Breakfast for 2 Persons

Meals as indicated

Transport in air-conditioned vehicles

Small group touring

All Entrance fees

English speaking tour leader

All Tipping

Arrival and departure transfers
Any Personal Expenses

Visa fees

Porters

Insurance and personal expenses such as laundry, mini-bar, telephone and drinks
Departure Dates and Rates
| MONTH | START DAY | PRICE TWIN ROOM | PRICE SINGLE ROOM | PROMO |
| --- | --- | --- | --- | --- |
| April | 4 | 1235 | 1499 | |
| | 11 | 1235 | 1499 | |
| | 18 | 1235 | 1499 | |
| | 25 | 1235 | 1499 | |
| May | 2 | 1235 | 1499 | |
| | 9 | 1235 | 1499 | |
| | 16 | 1235 | 1499 | |
| | 23 | 1235 | 1499 | |
| | 30 | 1235 | 1499 | |
| June | 6 | 1235 | 1499 | |
| | 13 | 1235 | 1499 | |
| | 20 | 1235 | 1499 | |
| | 27 | 1235 | 1499 | |
| July | 4 | 1235 | 1499 | |
| | 11 | 1235 | 1499 | |
| | 18 | 1235 | 1499 | |
| | 25 | 1235 | 1499 | |
| August | 1 | 1235 | 1499 | |
| | 8 | 1235 | 1499 | |
| | 15 | 1235 | 1499 | |
| | 22 | 1235 | 1499 | |
| | 29 | 1235 | 1499 | |
| September | 5 | 1235 | 1499 | |
| | 12 | 1235 | 1499 | |
| | 19 | 1235 | 1499 | |
| | 26 | 1235 | 1499 | |
| October | 3 | 1265 | 1579 | |
| | 10 | 1265 | 1579 | |
| | 17 | 1265 | 1579 | |
| | 24 | 1265 | 1579 | |
| | 31 | 1265 | 1579 | |
| November | 7 | 1265 | 1579 | |
| | 14 | 1265 | 1579 | |
| | 21 | 1265 | 1579 | |
| | 28 | 1265 | 1579 | |
| December | 5 | 1265 | 1579 | |
| | 12 | 1265 | 1579 | |
| | 19 | 1265 | 1579 | |
| | 26 | 1265 | 1579 | |
| MONTH | START DAY | PRICE TWIN ROOM | PRICE SINGLE ROOM | PROMO |
| --- | --- | --- | --- | --- |
| January | 2 | 1265 | 1579 | |
| | 9 | 1265 | 1579 | |
| | 16 | 1265 | 1579 | |
| | 23 | 1265 | 1579 | |
| | 30 | 1265 | 1579 | |
| February | 6 | 1265 | 1579 | |
| | 13 | 1265 | 1579 | |
| | 20 | 1265 | 1579 | |
| | 27 | 1265 | 1579 | |
| March | 6 | 1265 | 1579 | |
| | 13 | 1265 | 1579 | |
| | 20 | 1265 | 1579 | |
| | 27 | 1265 | 1579 | |
All pricing is reflected in Australian Dollar unless otherwise specifically denoted and is valid at time of publication but is subject to change.

All prices are per person sharing a double room. Single and Triple room rates available upon request.

'From' prices represent land only and low season twin share prices (unless otherwise clearly stated).

Unless otherwise stated, prices include all government levies and airport taxes as at the date of publication.

Dates, itineraries and prices are indicative only and subject to change by time booking.

Private Travel prices are valid for travel during low season and will vary depending on date of travel.

All Hotel Names stated in the tour itinerary may change to one of a similar Standard without prior notice..

Some countries charge additional destination tax which are either per Person or per Night. These taxes can vary and must be paid directly at the location or hotel.

Items listed under Booking Exclusions are NOT included in the price and must be paid directly at the location.

All Tours are escorted by English-Speaking Guides unless otherwise mentioned.

All Excursions are based on Join-In Capacity unless "Private Tour" is explicit mentioned. Private Tours are available upon request and with surcharges.

Self-Drive Tours may not always include a car rental. Please check carefully the included and excluded box. Driver must be in posseion of an valid drivers license and for some countries an international license as well as a valid credit card.

We will use our reasonable efforts to notify you of changes in prices.

All our Insider Journeys itineraries as shown on our website and in our brochures will outline the relevant touring schedule and inclusions and will be priced accordingly to reflect this. Prices may vary based on the selected travel season and any individual amendments required.

Even if the tours are requested as displayed, on occasion Insider Journeys may be required to impose surcharges depending on variables in the destinations outside of its control. Due to hotel availability in some destinations the accommodation stated in the itinerary may change to that of a similar standard. In light of recent worldwide events and due to the ever-changing current situation, there may also need to be more flexibility applied to the touring content and schedule in certain incidences and sometimes at short notice. Please note that we will always endeavour to keep the inclusions as close as possible to those shown and to notify you as best we can should such changes arise, although we appreciate your understanding in that this may not always be possible.

For more detailed price and other booking information please visit the booking condtions page click here