Meals
Daily Breakfast
Other Meals as indicated
Hotel Category
3 - 4 Star Hotels
Request More Details
Rise early to be rewarded with the spectacular views of thr largest Buddist temple at sunrise. On Indonesia's famous train travel to Yogyakarta pass picturesque views. Feel the breeze run through your hair as you enjoy a rickshaw ride to the Royal palace.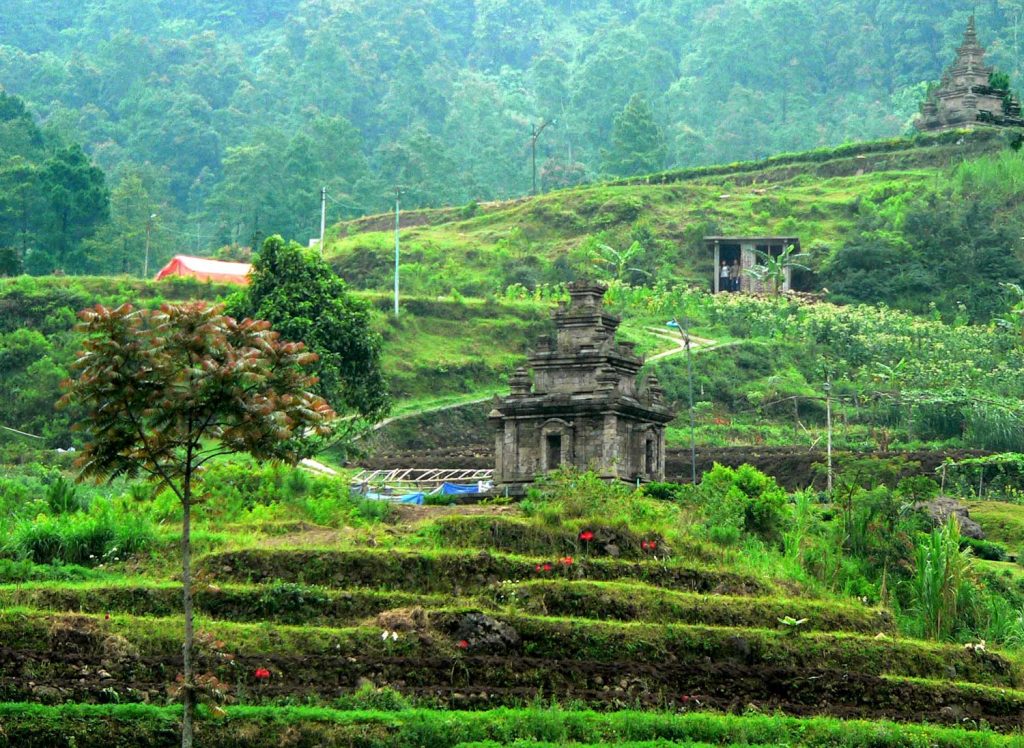 Day 1: WELCOME TO JAKARTA On arrival, you will be met and transferred to your hotel. Tonight, meet your fellow Travellers over welcome drinks while your Tour Leader explains some important details and logistics of the journey ahead. ACCOMMODATION 1 night SANTIKA PREMIER SLIPI HOTEL (OR SIMILAR) – Deluxe Room
Day 2: JAKARTA TO BOGOR Today features a drive past the National Monument and Presidential Palace, Indonesia's most important political site is also home to an assortment of stunning artwork and architecture. Take a trip to the Presidential Palace and witness the place where Indonesia declared its independence from the Netherlands. Learn about the lives of the Indonesian presidents who have lived here and explore the rooms they would have inhabited. Be sure to admire the tall white columns and intricate façade of a superb example of neoclassical architecture. Afterwards drive onward to the northern part of town to visit Fatahillah Square, also known as Old Batavia, is the historical district of Jakarta located in Kotas. During Dutch Colonial times in the 16th century, this was the heart of the walled city. Home to attractions such as the Jakarta History Museum and many colonial buildings. Visit Sunda Kelapa, Dutch domination of Jakarta and the rest of Indonesia began from this area, whereas the remnants of Kasteel Batavia, an old fort and trading post of the Dutch East Indies Company can still be seen now. Sunda Kelapa is at present a fisherman's wharf and an inter island port. Continue the drive onto Bogor Breakfast and lunch included ACCOMMODATION 1 night THE 101 BOGOR (OR SIMILAR) – Deluxe Balcony Room
Day 3: BOGOR TO BANDUNG Explore Bogor Botanical Garden, Indonesia's first and foremost botanic garden, it is 87 hectares of beautifully kept trees, plants flowers, lawns and ponds within a busy expanding city of 1 million people. It is also a world famous institution for research and conservation that has developed over many years and is continuing to do so. Don't miss a visit to the orchid house, which contains 3,000 varieties of the delicate flower! From Bogor, the road climbs for approximately 30 minutes until reaching Puncak Pass, a vast sea of undulating green hills filled with tea plantations. Finish your day trip with an Indonesian lunch at a local restaurant before drop-off at your hotel. Breakfast and lunch included ACCOMMODATION 2 nights PRAMA GRAND PREANGER BANDUNG (OR SIMILAR) – Superior Room
Day 4: BANDUNG Bandung was the favourite resort of wealthy tea and coffee planters owners of swathes of undulating tea and coffee plantations. Bandung was then also dubbed the elegant " Parijs van Java", the Paris of Java. For this reason also, in Central Bandung you can still admire Art Deco buildings of Dutch colonial heritage, some restaurants still serve genuine, sizzling Dutch Beef steaks and Dutch bitterballen, for food-lovers to make a beeline to Bandung. Today's journey starts with an early morning drive to ciwidey, continued uphill through strawberry fields until situ patenggang a lake with its beautiful tranquil and serene atmosphere. The ambience becomes more dramatic when mist rolls down from the hills and covers the lake, creating magical scenery. Then continue to visit kawah putih aka the White Crater contains snow white shallow water from spring. The volcano is still active as evidenced by the two vents in at the end of the lake where you can still see white plumes of smoke emitting. On the way back to the city, you are rolling hills and tea plantations. In the afternoon, spend the time to see the famous uniquely traditional wooden doll puppet theatre known as 'wayang golek' and the 'angklung' bamboo orchestra, as well as the Sudanese traditional bamboo musical concert performed by a small group of children with colourful and beautiful dances. Breakfast and lunch included ACCOMMODATION PRAMA GRAND PREANGER BANDUNG (OR SIMILAR) – Superior Room
Day 5: BANDUNG TO YOGYAKARTA Transfer to Bandung train Station and travel by executive Train to Yogyakarta. Enjoy lush green scenery as we travel near the mountainous area close to Bandung. Upon arrival transfer to your hotel. The remainder of the day is yours to explore the charming atmosphere of the town. There is plenty of things to do in Yogyakarta – especially when it comes to arts and crafts. The city is famous for being the capital of Javanese art, a place where every other street hides a workshop or atelier of some kind, where you can get your hands on some truly wonderful souvenirs. It is also a pleasant place to spend wandering around alleyways and markets, the atmosphere is welcoming and relaxing and there's an interesting encounter of tradition and modernity, with ancient and modern art existing side by side. Breakfast and lunch included ACCOMMODATION 3 nights THE PHOENIX YOGJAKARTA (OR SIMILAR) – Superior Room
Day 6: YOGYAKARTA Rise early as we see Borobudur at sunrise. Borobudur temple is best seen at dawn, when the air is fresh. As the mist begins to lift, the sun scales the surrounding volcanoes and terraced fields, and highlights the stone reliefs and the many faces of Buddha.. A truly enlightening experience! After breakfast we will then continue to visit Pawon temple, which was built during 8th–9th centuries, some people believe that this temple was built as a tomb or mortuary temple for a king. Our last visit will be Mendut Temple, for local Javanese, especially those who follow traditional Javanese mysticism or Buddhism practices, praying in Mendut temple is believed to fulfill various wishes, such as deliverance from sickness. Mendut, Borobudur and Pawon, all of which are Buddhist temples, are located in one straight line. There is a mutual religious relationship between the three temples, although the exact ritual process is unknown. Breakfast included ACCOMMODATION THE PHOENIX YOGJAKARTA (OR SIMILAR) – Superior Room
Day 7: YOGYAKARTA Exploration by 3-wheeled becak (a traditional Javanese rickshaw) gives a new perspective of the wonderful Yogyakarta. We hop on one and cycle to The Royal Palace in Yogyakarta, known as the Keraton, you will be invited around the area of this king's palace, see some of the official clothing collections and valuable relics and objects of Yogyakarta's sultanate. Once the tour at Sultan palace concludes, we will continue our tour by bus and visit Tamansari water castle, this is the site of a former royal garden of the Sultanate of Yogyakarta built in the mid-18th century, the Taman Sari had multiple functions, such as a resting area, a workshop, a meditation area, a defence area, and a hiding place. Its combination of eastern and western style building, this unique escape of the royal family has its own appeal and story. Discover the art of batik making – Indonesian batik fabric, especially for a Javanese, is an inherent part of their lives, culture and heritage and most batik in Indonesia (that's not produced in a factory) is still hand made in small local workshops. Later, discover the art of batik making as we venture to Kotagede silverwork, Kota Gede is a suburb of the city of Yogyakarta. The town is a maze of narrow streets, lined with tiny, traditional silversmith shops and mosaic-tiled houses, once the homes of the aristocracy and royal merchants. Kota Gede is a great place to come and take a slow wander round. This precinct is now most famous as the centre of Yogyakarta's silver industry. Our last visit will be prambanan temple, built in the 10th century, this is the largest temple compound dedicated to Shiva in Indonesia. Rising above the centre of the last of these concentric squares are three temples decorated with reliefs illustrating the epic of the Ramayana, dedicated to the three great Hindu divinities (Shiva, Vishnu and Brahma) and three temples dedicated to the animals who serve them. Breakfast and lunch included. ACCOMMODATION THE PHOENIX YOGJAKARTA (OR SIMILAR) – Superior Room
Day 8: YOGYAKARTA TO MT BROMO Travel by train to Mojokerto before continuing the journey by car along the east side through java's heartland, passing endless teak forest and lush countryside until Mt Bromo. Indonesia is part of the Pacific Ring of Fire, with no less than 127 active volcanoes, it is home to the most well known volcano Mt Bromo. Its name, Bromo, derives from the Javanese pronunciation of Brahma, the Hindu creator god. Breakfast and lunch included. ACCOMMODATION 1 night LAVA VIEW LODGE (OR SIMILAR) – Deluxe Room
Day 9: MT BROMO TO KALIBARU At 3.00 am depart to Penanjakan on the rim of tengger caldera by jeep to view one of the most spectacular sunrises. Enjoy the summit and admire the magnificent panorama over its caldera from 2,700 m, as well as an expansive area of sand/dust known as the Sea of Sand. Just outside the National Park there are some incredible viewpoints of Mount Bromo and its surroundings, which provide some of the most iconic and stunning views in all of Indonesia, especially at sunrise. After viewing this beautiful moment, head back to the hotel for breakfast. Continue your discoveries as we drive to Banyuwangi (takes about 6 hours drive). Along we way you can enjoy a traditional lunch at a local restaurant. Upon arrival at Kalibaru the afternoon is at leisure. Breakfast and lunch included. ACCOMMODATION 1 night KALIBARU COTTAGES (OR SIMILAR) – Deluxe Room
Day 10: KALIBURU Wander through cocoa and clove plantations with a volcano backdrop on Java's Ijen plateau. Meet the locals, and relax in tropical gardens. You'll visit Harni's plantation in Kalibaru, a welcoming village surrounded by some of Java's most scenic plantations. Later, enjoy a demonstration of coffee making as well as the process of brown sugar. Moreover, you will see a traditional dance from the local children they may even ask you to join them. Afterwards, journey to Bali. Lunch will be served at a local restaurant along the way (this journey will take about 5 hours drive, via Ketapang –Gilimanuk Port) and passes through constantly changing scenes of life in tropical paradise – sleepy rural villages, terraced rice fields, plantations, orchards, forests. Breakfast and lunch included. ACCOMMODATION 2 nights UBUD VILLAGE HOTEL (OR SIMILAR) – Deluxe Room
Day 11: UBUD Start you day with a tour of Ubud, visit Tirta Empul Temple or most known as a Holy Spring temple, the site is the legendary setting of a traditional tale about good versus evil. It's also a national cultural heritage site. Continue on to Gunung Kawi Bali – The Oldest Balinese Ancient Hindu Temple In Ubud. After lunch we will visit the beautiful Rice Terrace at Tegalalang village, with the dramatic views within easy reach, the Tegallalang rice terraces offer a fantastic photo opportunity. The vista sprawls down and away to the rice terraces on the slopes across the valley. It's a very popular view, but this ancient valley has a timeless quality whether there are tourists or not, we then journey to visit Ubud Monkey Forest in the centre of Ubud town which is home to over 700 grey long-tailed macaques. Also known as the Sacred Monkey Forest of Padangtegal, this natural sanctuary has paved pathways through a leafy nutmeg forest as well as several ancient temples under dense foliage. It's a popular wildlife reserve in Bali. In the evening enjoy a farewell group dinner. Breakfast included. ACCOMMODATION UBUD VILLAGE HOTEL (OR SIMILAR) – Deluxe Room
Day 12: DEPART UBUD It's time to say goodbye, but just think of all the wonderful stories you will take home. A transfer will take you to the airport for your onward travels. Breakfast included.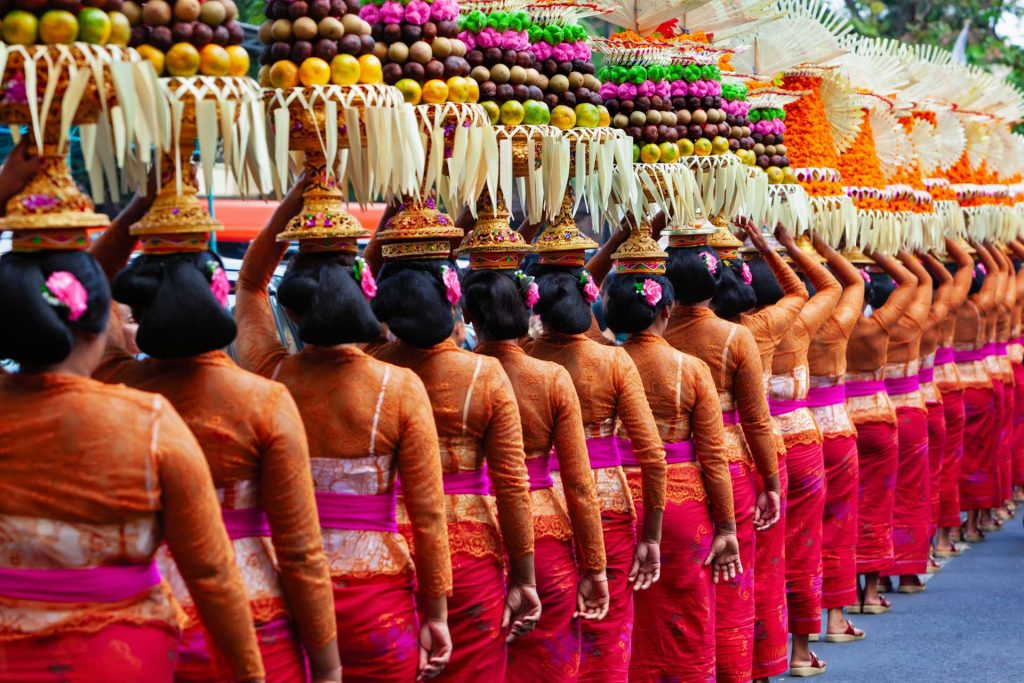 11 nights in described Hotel or similar

Daily Breakfast for 2 Persons

8 Lunches

1 Dinner

Transport in air-conditioned vehicles

Small group touring

All Entrance fees

English speaking tour leader

All Tipping

Arrival and departure transfers
Any Personal Expenses

Visa fees

Porters

Insurance and personal expenses such as laundry, mini-bar, telephone and drinks
Departure Dates and Rates
| MONTH | START DAY | PRICE TWIN ROOM | PRICE SINGLE ROOM | PROMO |
| --- | --- | --- | --- | --- |
| April | 3 | 2469 | 3235 | |
| May | 1 | 2469 | 3235 | |
| June | 12 | 2469 | 3235 | |
| July | 10 | 2665 | 3435 | |
| August | 7 | 2665 | 3435 | |
| September | 4 | 2469 | 3235 | |
| October | 2 | 2469 | 3235 | |
| November | 6 | 2469 | 3235 | |
| December | 11 | 2469 | 3235 | |
| MONTH | START DAY | PRICE TWIN ROOM | PRICE SINGLE ROOM | PROMO |
| --- | --- | --- | --- | --- |
| January | 8 | 2475 | 3269 | |
| February | 12 | 2469 | 3235 | |
| March | 12 | 2469 | 3235 | |
All pricing is reflected in Australian Dollar unless otherwise specifically denoted and is valid at time of publication but is subject to change.

All prices are per person sharing a double room. Single and Triple room rates available upon request.

'From' prices represent land only and low season twin share prices (unless otherwise clearly stated).

Unless otherwise stated, prices include all government levies and airport taxes as at the date of publication.

Dates, itineraries and prices are indicative only and subject to change by time booking.

Private Travel prices are valid for travel during low season and will vary depending on date of travel.

All Hotel Names stated in the tour itinerary may change to one of a similar Standard without prior notice..

Some countries charge additional destination tax which are either per Person or per Night. These taxes can vary and must be paid directly at the location or hotel.

Items listed under Booking Exclusions are NOT included in the price and must be paid directly at the location.

All Tours are escorted by English-Speaking Guides unless otherwise mentioned.

All Excursions are based on Join-In Capacity unless "Private Tour" is explicit mentioned. Private Tours are available upon request and with surcharges.

Self-Drive Tours may not always include a car rental. Please check carefully the included and excluded box. Driver must be in posseion of an valid drivers license and for some countries an international license as well as a valid credit card.

We will use our reasonable efforts to notify you of changes in prices.

All our Insider Journeys itineraries as shown on our website and in our brochures will outline the relevant touring schedule and inclusions and will be priced accordingly to reflect this. Prices may vary based on the selected travel season and any individual amendments required.

Even if the tours are requested as displayed, on occasion Insider Journeys may be required to impose surcharges depending on variables in the destinations outside of its control. Due to hotel availability in some destinations the accommodation stated in the itinerary may change to that of a similar standard. In light of recent worldwide events and due to the ever-changing current situation, there may also need to be more flexibility applied to the touring content and schedule in certain incidences and sometimes at short notice. Please note that we will always endeavour to keep the inclusions as close as possible to those shown and to notify you as best we can should such changes arise, although we appreciate your understanding in that this may not always be possible.

For more detailed price and other booking information please visit the booking condtions page click here