Add to wishlist
Added to wishlist
Removed from wishlist
0
Add to compare
Our Insider Experience
Known as the Dragon's Backbone, spend time taking in the spectacular rice terrace scenery of Longsheng during an overnight stay at a beautiful lodge.
Visit a village in the southern countryside for an interactive experience to learn about rural life in China as you pick vegetables for a simple lunch.
Venture high into the mountains to visit an ancient village and see local tea pickers at work in the plantation.
Taste the flavours of an iconic Sichuan hotpot as you cook fresh vegetables and meat in the spicy, simmering soup.
Request More Details
Itinerary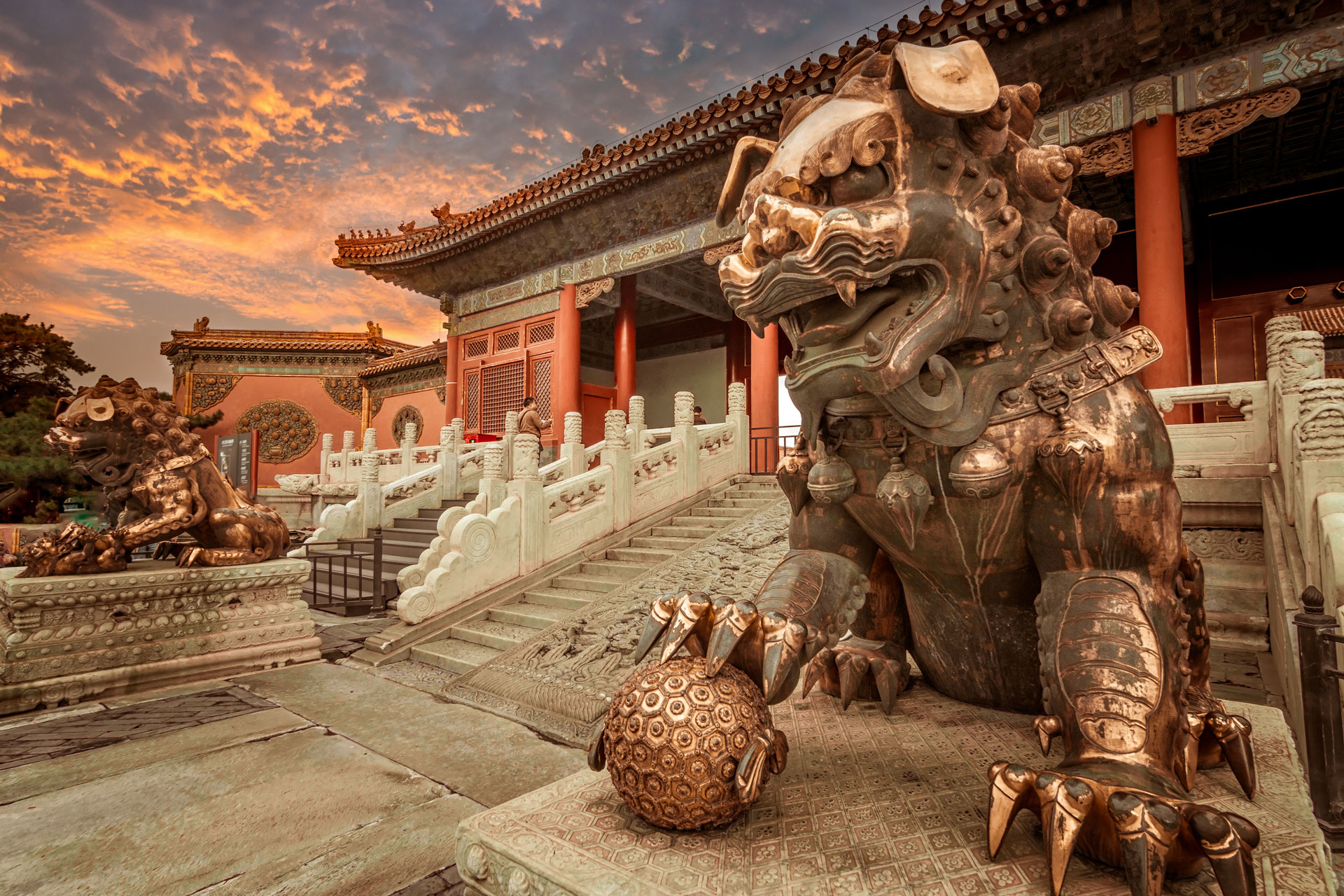 Day 1: ARRIVE BEIJING
Upon arrival in Beijing you will be met and transferred to your hotel. Tonight, meet your tour leader and the rest of the group in the reception area of your hotel for a tour briefing.
ACCOMMODATION 4 nights
NOVOTEL XINQIAO (OR SIMILAR) -Run of house room
1 Chongwenmen W St
Dongcheng, China, 100005
Tel: +86 10 6513 3366

Day 2: BEIJING
Begin your exploration of this impressive capital city. Beijing, which means Northern Capital, is undoubtedly one of the great cities of the world. From one thousand years of dramatic history to a dynamic modern metropolis, Beijing offers a magnificent insight into China's (The Middle Kingdom's) past and future.
Walk through Tiananmen Square which was built on the orders of Mao Zedong and is said to have the capacity to hold over a million people. From Tiananmen Square continue on foot passing through the beautiful Gate of Heavenly Peace and under the portrait of Chairman Mao to enter the splendid Forbidden City. This ancient city was the sacred heart of the empire for over 500 years and home to the Ming and Qing dynasty imperial courts. Immediately north of the Forbidden City, we head towards Jingshan Park (the Imperial Park). Covering 23 hectares (57 acres) it is an oasis of flowers and trees, and boasts breathtaking views of the Forbidden City from Coal Hill, one of the very few hills in Beijing. We also embark on a walking tour of one of Beijing's few remaining 'hutongs' or traditional lanes in the backstreets of the city, gaining a glimpse of 'old' Beijing.
In your free time this evening you may like to explore the Wangfujing night markets to see (and try!) a
huge array of gastronomic wonders from around China.
Breakfast and lunch included
ACCOMMODATION
NOVOTEL XINQIAO (OR SIMILAR) – Run of house room

Day 3: BEIJING
Today see one of China's most iconic temples, the sacred and architecturally unique, Temple of Heaven. Also known as Tiantan, this perfection of Ming architecture has come to symbolise Beijing. Once used for the worship of the heavens for good harvest, the structure stands at 38 metres in height and 30 metres in diameter. With neither nails nor concrete used in its construction, it is completely balanced by wooden pillars. The temple is located within a vast park and in the early mornings the area is alive with tai chi enthusiasts, elderly men practicing Chinese calligraphy, dancers and performers reciting Beijing opera. Continue to Panjiayuan Antique market, known for antiques, arts and crafts. It is Beijing's largest, cheapest, and most popular market selling second hand goods and curios in China.
This afternoon we visit the magnificent Summer Palace. Filled with temples, pavilions, gardens and decorated corridors, the Summer Palace was particularly favoured by the infamous Empress Dowager Cixi in the late 19th century. Wander through the extensive grounds of this vast royal garden which includes several Beijing's artistic gems: the 700-metre-Long Corridor, the graceful Seventeen Arch Bridge, and the temples and pavilions of Longevity Hill.
Breakfast and lunch included
ACCOMMODATION
NOVOTEL XINQIAO (OR SIMILAR) – Run of house room

Day 4: BEIJING
This morning travel to Mutianyu, 90 kilometres (56 miles) north-east of Beijing, to visit China's most famous attraction – the Great Wall of China. Built over 2000 years ago and extending 5000 kilometres (3,107 miles) from the Shanhaiguan Pass on the east coast to the Gobi Desert in the west. Take the cable car up to the Wall from where you can take time to walk or climb sections (as your energy allows), admiring the panoramic views and reflecting on the enormity of the material and labour required for its construction. It is estimated that a million people were used at different stages during the construction
period. Ironically the wall never achieved its aim – to prevent invaders from the north.
Back in town this evening, you will have a chance to feast on Beijing's famous roast duck for dinner.
Breakfast and dinner included
ACCOMMODATION
NOVOTEL XINQIAO (OR SIMILAR) – Run of house room

Day 5: BEIJING TO XIAN
Travel by high-speed train to Xian (approximately 5½ hours). Xian (which means Western Peace) is located close to the banks of the Yellow River and has a history dating back to 1000BC. The city served as the capital for China's greatest emperor, Emperor Qin Shi Huang (221 BC) (the word 'China' is derived from his name) and was also the starting point for the world's most famous trade route – the Silk Road.
Optional Experience – Taste: This evening you have an opportunity to sample Xian's famous local dumplings at a local restaurant
Breakfast included
ACCOMMODATION 2 nights
GRAND DYNASTY CULTURE HOTEL (OR SIMILAR) – Run of house room
172 Lianhu Rd, Zhong Lou Shang Quan
Lianhu, Xi'an, Shaanxi, China, 710002
Tel: +86 29 8721 6868

Day 6: XIAN
Today enjoy a tour of this culturally diverse and very exotic Chinese city. Firstly, take a short drive east that will take you to the truly remarkable Army of Terracotta Warriors – one of the most important archaeological discoveries of the 20th century. Still under excavation, these thousands of life sized terracotta warriors and horses were only unearthed in 1974 after being buried for 2000 years. Each figure is completely unique both in facial features and expression. The terracotta army was designed to defend Emperor Qin Shi Huang's tomb and ensure that he would have a standing army to protect him in the afterlife. Many archaeologists believe that the warriors discovered so far might only be part of an even larger terracotta army still buried in vaults around the Emperor's tomb. Following the Terracotta Warriors, visit Xian's city wall, one of the oldest, largest and best preserved of all Chinese city walls. Surrounded by a deep moat, Xian's city wall was erected in the 14th century Ming
Dynasty under the emperor Zhu Yuanzhang. From this historic site continue onto the heart of Xian's Muslim Quarter to visit the Great Mosque. An interesting fusion of both Middle Eastern and traditional Chinese architectural styles, the Great Mosque is one of the largest in China and an important place of worship for approximately 30,000 Muslim people living in Xian. Take some time to walk through the Muslim Quarter to enjoy the lively street markets and fascinating local foods.
Breakfast and lunch included
ACCOMMODATION
GRAND DYNASTY CULTURE HOTEL (OR SIMILAR) – Run of house room

Day 7: XIAN TO CHENGDU
This morning we commence our journey by high speed train to Chengdu, capital of Sichuan province. Sichuan is the largest province in South West China and renowned for its stunning mountain scenery, dense forests, diversity of natural and historic sites and not least – its fabulous world famous spicy cuisine! Chengdu itself is a Chinese city with a difference and despite rapid development; there are still delightful pockets of backstreet life, teahouses and riverside parks to explore. Relax on the high-speed train taking in rural vistas and local scenes for our approximate 4-hour trip.
Enjoy an afternoon visit to the People's Park. Built in 1911, the park covers a total area of 112,639 square metres and integrates heritage preservation with entertainment. Soak up the atmosphere and watch local people going about their daily life.Join locals in tea house for cup of tea and observe they play mahjong.
Breakfast included
ACCOMMODATION 2 nights
DORSETT GRAND HOTEL (OR SIMILAR) – Run of house room
168 W Yulong St, Luo Ma Shi
Qingyang, Chengdu, Sichuan, China, 610015
Tel: +86 28 8332 8666

Day 8: CHENGDU
Rise early this morning to visit the Giant Panda Research & Breeding Base, just a short drive out of Chengdu and one of the highlights of this region. The base is a fascinating place to observe Giant Pandas and to learn about these endangered animals and the conservation and breeding initiatives that have been implemented to protect them and their natural habitat. You will have a chance to see and watch a growing number of Giant Pandas as well as the lesser known Red Panda. Take time to watch the younger ones at play which is always a source of much entertainment! If you are lucky and travelling in the latter part of the year you may get a chance to see newborn pandas only a few months old who are usually kept in incubators – a unique experience and one well worth hoping for!
Then drive to Leshan to view Da Fo – the largest Buddha statue in the world. The statue is 71 metres tall, carved out of a cliff face of cretaceous red sandstone, and was built between 713 and 803. On arrival board a boat for a short trip to get the most ideal view of Da Fo.
Insider Experience – Unique: Visit Shuji village a local ancient town that in not easily found on a map. Shuji preserves ancient courtyards and buildings from the Qing Dynasty (1636 – 1912). The spectacular arches, ancient carved beams and painted rafters are often striking to visitors. Savour a cup of tea at a local tea house from which to observe daily local activity and watch locals engaging in a game of mah-jong. Tea for China is as coffee and wine is for western culture. Gain a comprehensive understanding of the tea culture in China by visiting a tea planation on the mountains near Shuji.
Insider Experience – Taste: Enjoy a traditional Sichuan hotpot for dinner.
Breakfast, lunch and dinner included
ACCOMMODATION
DORSETT GRAND HOTEL (OR SIMILAR) – Run of house room

Day 9: CHENGDU TO LONGSHENG
Morning transfer to airport for your onward flight to Guilin.
Arrive in Guilin and transfer to Longsheng, famed for its beautiful rice terraced fields and colourful ethnic minority villages. After checking in to your unique hotel, enjoy fabulous views overlooking the famous Dragons Backbone rice terraces, featuring rows upon rows of rice terraces clinging precariously to the slopes of neighbouring mountain peaks and valleys.
Breakfast included
ACCOMMODATION 1 night
PING AN HOTEL (OR SIMILAR) – Run of house room
China, longshengNo.910 PingAn village
LongJi Terraces: 541700
Tel: +86 773 758 3039.

Day 10: LONGSHENG TO GUILIN
Today, venture to the terraced rice fields which stretch from the bottom to the top of the mountains. The terraces form magnificent scenery which changes colour according to the season. There are lots of stunning, scenic spots like Seven Stars Surrounding the Moon, Nine Dragons and Five Tigers and Two Dragons Playing with a Pearl, all of which are popular among visitors and nice places to photograph. With your tour leader take the opportunity to visit two of these spectacular rice terraces and take in the panoramic view they offer.
Afterwards embark on the scenic 2-hour drive to Guilin, a city located on the banks of the Li River and famous for its unique limestone hill landscape.
Insider Experience – Taste: Enjoy lunch at a local farmers restaurant.
This evening if time permits you might like to take a leisurely walking tour of Central Square and the lake area near the hotel which comes alive after dark with fountain shows, lighting displays and a small bustling night market.
Breakfast and lunch included
ACCOMMODATION 1 night
GUILIN BRAVO HOTEL (OR SIMILAR) – Run of house room
14 Ronghu S Rd, Xiangshan
Guilin, Guangxi, China, 541002
+86 773 289 8888

Day 11: GUILIN TO YANGSHOU
This morning transfer to the pier to board your boat for a wonderful journey along Li River. The boat journey takes you past tranquil farming and fishing scenes, and picturesque villages. The main attraction, however, is the stunning limestone karsts that tower above the river creating a magical landscape of mountains and water. The unique and natural beauty of this region has for centuries been an inspiration to Chinese artists and poets alike.
The small town of Yangshuo – set in the lush green rice paddies of southern China, surrounded by meandering river ways and limestone peaks. Spend the afternoon walking the cobblestone streets, relax in a street side cafe, and enjoy the colourful atmosphere of this enchanting town.
Optional experience – Impressive: Weather permitting, you might like to consider taking in an evening performance of the breath-taking light and sound show, Impression San Jie Liu, directed by the famous director Zhang Yi Mou of Raise the Red Lantern fame. This spectacular outdoor performance is staged by local villagers and fishermen on the river with towering karst peaks forming an amazing backdrop.
Breakfast and lunch included
ACCOMMODATION 2 nights MEHOOD HOTEL (OR SIMILAR) – Run of house room
Unit 1&3, Building 3, Zhangtai Wubu Xiaozhen
Yangshuo, Guangxi, China
Tel: +86 773 312 0999

Day 12: YANGSHOU
Join locals in their farm and pick up veggies for your own lunch. Later enjoy an afternoon rafting along Yulong River, a tributary of Li River.
Optional Cooking class and dinner
Insider Experience – Unique: Venture to farmlands surrounding Yangshuo for a fascinating farming village experience. Learn about how farming is arranged and conducted in a typical village: how land is divided, what sort of crops are grown and the methods used. You may even like to assist in hand picking vegetables for your lunch. You will also have the chance to learn more about life in this part of rural China over lunch in a family home.
Afterwards, relax on a raft along the Yulong River and take in the stunning scenery – karst hills, thick bamboo graves, water buffalos, farmers tending rice paddies and fisherman gliding along on their own rafts. Delight in the idyllic scenes of simple rural life, and a few small villages set among the hillside greenery. (Rafting is age restricted and will be replaced by a guided walking tour along the Yulong river if over 65 years)
Later, back in town, there will be free time for you to visit the local markets or indulge in some shopping in the assortment of shops and street side stalls.
Breakfast and lunch included
ACCOMMODATION MEHOOD HOTEL (OR SIMILAR) – Run of house room

Day 13: YANGSHOU TO HONG KONG
Transfer by train to West Kowloon. Upon arrival in Hong Kong you will be met by your Hong Kong local guide and transferred to hotel. Enjoy the rest of your day at leisure.
Breakfast included
ACCOMMODATION 2 nights HARBOUR PLAZA METROPOLIS (OR SIMILAR) – Run of house room
7 Metropolis Dr
Hung Hom, Hong Kong

Day 14: HONG KONG
This morning, enjoy a half day tour exploring this vibrant city of Hong Kong, an autonomous Chinese territory, and former British Colony. We take the Peak Tram on the worlds steepest funicular railway on a 7-minute journey past skyscrapers to Victoria Peak. Enjoy the spectacular view of Victoria Harbour from Hong Kong's highest mountain. Then continue to the southern part on Hong Kong island to Repulse Bay, to take in the relaxed atmosphere of Kwun Yam Temple. Built in 1840, the temple has two of Hong Kong's beloved deities, Kwun Yam and Tin Hau, overlooking the sea as if standing guard to the entrance of the temple. Finally, take in the floating villages in Aberdeen Harbour on a sampan ride. It is estimated that there are 600 junks in Aberdeen Harbour, housing 6,000 people. Great photo opportunities abound as we sail around getting a glimpse into the fascinating way people live in Aberdeen harbour.
Breakfast included
ACCOMMODATION
HARBOUR PLAZA METROPOLIS (OR SIMILAR) – Run of house room

Day 15: DEPART HONG KONG
Today your tour ends with a transfer to the airport for your onward travel.
Breakfast included
What's included
14 nights hotel accommodation
Breakfast daily
7 lunches
2 dinners
Transport in air-conditioned vehicles
1 internal flight within Asia
All highspeed train journeys as specified in the itinerary
Small group touring
Entrance fees
English speaking tour leader
Tipping and arrival and departure transfers.
Excluded
Meals other than those specified
Visa fees
Porters
Insurance and personal expenses such as laundry, mini-bar, telephone and drinks.
Departures
| Departure | Return | Price From | Offer | Guaranteed Departure | Book Now |
| --- | --- | --- | --- | --- | --- |
| March 28th | April 12th | $5185 | | | Enquire Now |
Request More Details
Specification:
China Panorama
| | |
| --- | --- |
| Duration | 15 Days |
| Group Size | 16 (Maximum) |
| Tour Type | Small Group |
| Trip Grading | Moderate |